Today at Liberty Heights Fresh, I made my first item for the cold case up front. I'd been sitting on some persimmons that the produce manager, Ria, brought back to us and had been tossing some ideas around in my head and with our baker, Amber. My first thoughts were to do one of the following: a bread, muffins, a bread pudding, or a pudding... thought about mixing the meat of the fruit into a rice or tapioca pudding, but nothing really grabbed me as what I wanted to do. I had something specific in mind that I needed to put my finger on and figure out.
So a couple days ago, I went through the fruit and picked what I could use... peeled and squished the meat out into a bowl, then with a splash of lemon juice I put it into a container and stuck it in the walk-in to wait for me to figure out my idea. The fruit was in motion, so I had to get thinking.
I had a couple days off so I did some research online, perusing myriad recipes trying to find that spark and get me going... but nothing really grabbed me. There was a persimmon creme brulee and a persimmon fool that looked fun, but still I wavered...
So, today I finally realize maybe I'm not googling the right words... "Hey, what about persimmon *custard*?" BINGO. One recipe in particular jumped out and grabbed me... I jotted down some notes and ran with it.
Thus my first LHF non-soup item was born. Persimmon Custard atop a puree of the fruit: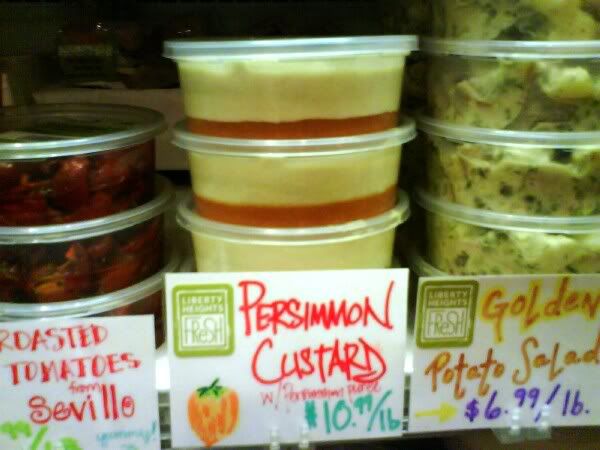 Unfortunately, as I was stirring the custard waiting it to hit just the right consistency, I zoned out for all of maybe ten seconds and it started to curdle! Onoz! I took it off the heat and put it straight into an ice bath to stop the cooking, but alas... I did what I could to save it, ran it through a few strainers (if only we had a chinois), and in the end it was decent. A little closer to a fine curd than a nice smooth custard, but delicious regardless. Creamy and juicy and sweet with a nice bit of vanilla rounding out the flavor. The bright orange puree (nothing but the fruit and a dash of lemon juice) is smooth and sweet and silky and makes a lovely presentation. Looks kinda like a creamsicle, eh? So for my mistake I priced this first batch around a dollar less per pound than it should be. I put it out in the case around 5 on this slow sunday night and before closing at 7 we'd already had our first taker along with rave reviews from staff.
Yay :)