For a while now, I've been hearing all about Tulie Bakery here in SLC. My boss has even brought in some of their goodies on occasion, and every time I've been rather impressed. This last week though, he brought in a selection of pastries for breakfast for the morning crew, and what he gave me was a real taste of home. It looked like a scone, but wasn't quite. It was softer, more silky, melted in your mouth... but it was the flavors that got me.
Back in San Francisco, my mom used to bring home scones (don't even get me started on what the locals call "scones" in these parts!) now and again... and my favorite was a savory scone flavored with cheese and fresh herbs. For years, I've been keeping my eyes out for something similar, but have been sorely disappointed and had decided the only way to capture that taste memory was to make them myself.
Today, I learned that what Steven gave me last week was Tulie's "Gougeres"... as soon as I tore off my first bite, I could feel a shallow well of tears form behind my eyes. That was the taste. Spot on. That was what I had been hunting for all these years... and the texture was pure pleasure. The choux pastry was still warm and once the delicate flaky crust broke upon my teeth, the velvety dough simply melted into my mouth, filling my senses with a taste of home like no other.
I'm hooked.
What I came to find out was there is another San Francisco connection. That is the owner spent a bit of time learning her craft at Tartine, one of my favorite hometown bakeries. Right on.
Monday, I had the day off, but to my dismay I pulled up to Tulie only to find they are closed on Mondays.
So, today Lia and I drove over after the dropped the kids at their schools, and I picked up a selection of various treats to try out. Of course, I had to have my Gougere! Lia loved it as much as I. In addition, we brought home (clockwise following the Gougere at the top pictured below) a Morning Bun, a Frangipane (almond with fresh berries) Tart, Scone with Currants, and Bran Muffins.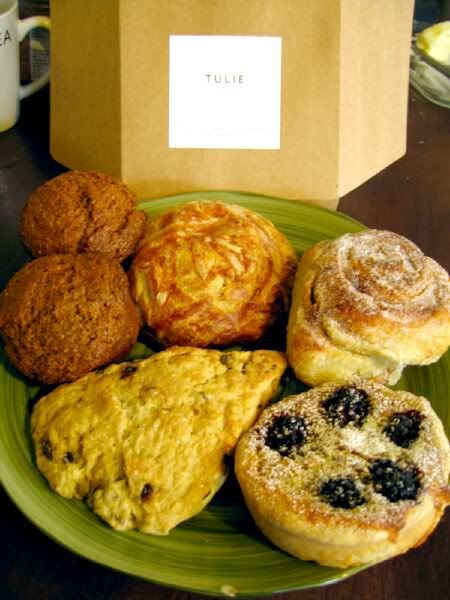 The Morning Bun (an old Tartine fave) is like a cinnamon/sticky bun only it's made with croissant dough... this particular one from Tulie is rich, the caramelized bits almost like candy, not overly spiced, and has a bright almost lemony freshness to it in the background.
The Tart had a wonderfully buttery crust. The edges were a little thick though, and I was afraid at first it might snap and fly everywhere, but it held up to the strength of my bite just fine. The contrasting soft custardy filling with almonds and sweet berries were quite fun. They also had a lemon creme tart and one with a variety of fresh berries. I kinda wish I'd gotten one of each! Though at just over $6 a piece, I just got one so that I could diversify elsewhere this trip.
The scone was rich and moist, but not to the point of being gummy like some can be. Just a light sweetness from coarse sugar baked on top. Just right for a nice cup of Earl Grey. Though my coffee (still on the Blue Krishna from JMCC) did just fine.
Last but not least, the Bran Muffins. I for one love bran muffins, so I always have to try them. Some judge bakeries on their croissants, some on their tarts, etc. I judge a bakery on its bran muffins. If they don't make any, I'm always disappointed... but they are an oft neglected item. The bran muffins at Tulie, like everything else so far, were just right. Nice crisp outer crust that broke crisp upon a gentle bite giving way to a soft yet substantial core that was moist and just barely sweet. A couple bites and a swish of my coffee to break it down, and I could feel the bran granular and yet silky. Definite thumbs up.
Huzzah!